FormRoom work alongside PUMA to design, produce & install a series of pop-ups across the UK and Europe.
To celebrate the launch of the 'Fenty by Rihanna' SS17 Collection, FormRoom were invited to work alongside PUMA to design, produce and install a series of pop-ups across the UK and Europe, at retailers including Selfridges, Offspring, JD Sports and Lifestyle Sports.
​​
​Taking inspiration directly from the catwalk show, which Rihanna as Creative Director describes as "Marie-Antoinette at the Gym" we took key moments, like Rihanna in head-to-toe pink, pearls and a lace Puma fan strutting down the catwalk, and worked to ensure we brought the sense of high fashion and fun to the store environments.
To create an even richer in store experience we collaborated with cult brand WAH Nails to create a pop up nail bar at the Flagship JD Sports store on Oxford Circus. With a Fenty pink nail bar and bespoke WAH Nails stools, customers were invited to shop the collection and treated to a Rihanna inspired nail artwork, fit for a queen.
​​
Another key element featured in all locations were the oversized campaign images; recreating key elements of the campaign image we produced the imagery in the style of gold venetian frames as a nod to the opulence of Versailles, and included lavender ladders on the sides to support the framework and showcase the campaign on both sides for a 360 degree experience in-store.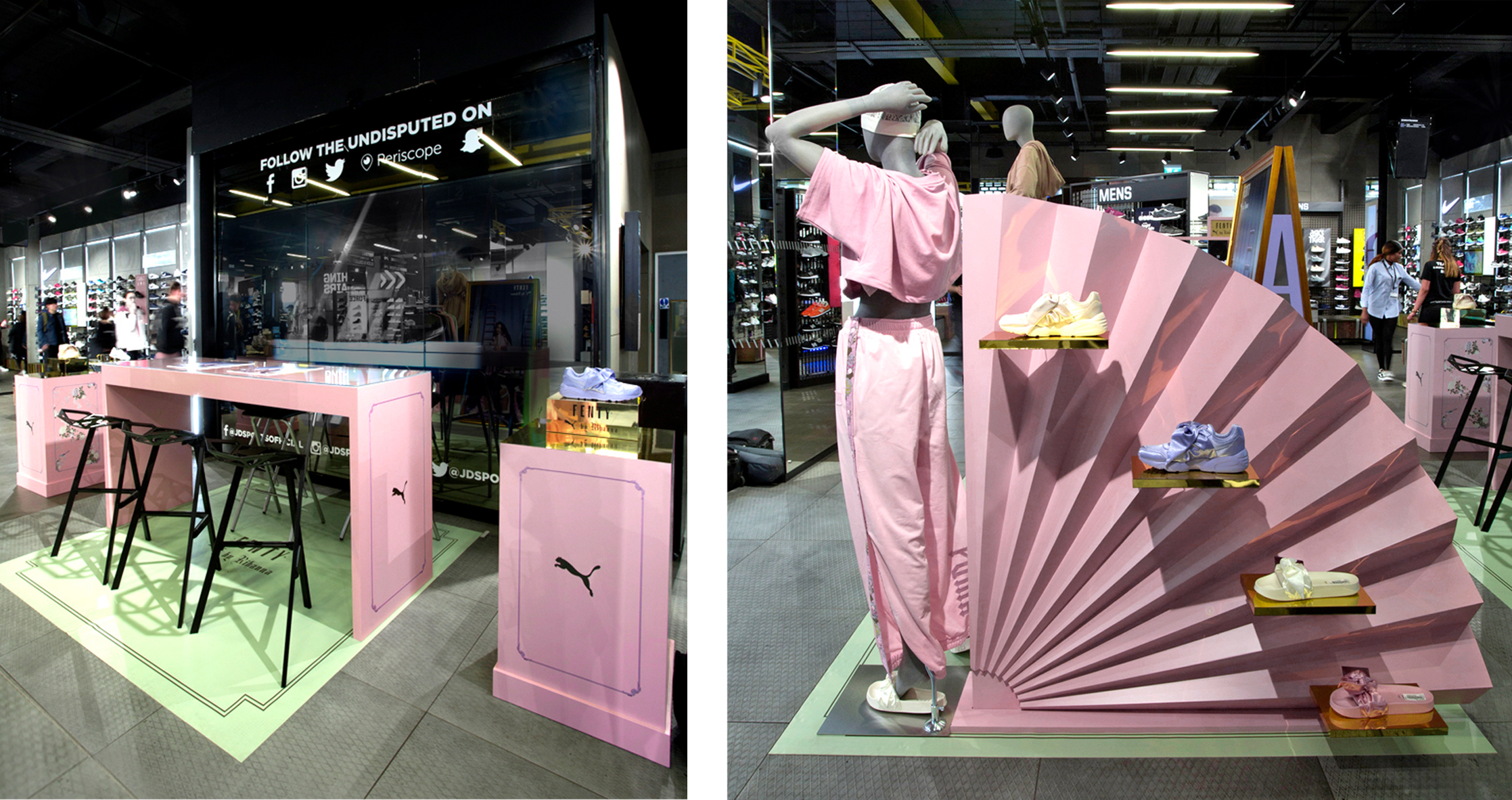 For the Selfridges pop up, located in the designer studio we use smaller Venetian frame elements and designed pastel rose flowers to merchandise the space and add theatre in keeping with Puma social media and marketing strategy.
To see more photos from this project, visit FormRoom Pop-Ups.