the brief
For their first ever bricks and mortar store, Missguided came to Prop Studios to deliver sensational, creative social experiences in-store. Prop Studios revelled in the task, identifying the Missguided brand values and audience to design a number of impactful installations in-store for the Missguided customer.
"It has been a pleasure to be in this project together. The whole team are absolutely fantastic and are some of the most talented and creative people I have ever had the pleasure of working with."
design & manufacture
We designed and produced a fully fitted gigantic pink monster truck, bedecked in jewels, pink leather, lighting and chromed features. The entrance focal point is surrounded by oversized donut tyres, dripping with icing and sprinkles. We then strung Missguided pink dollar bills from a money gun to complete the decadent scene, a ready-made social media post.
The impactful scheme of shareable moments continues throughout the Westfield Stratford store with our bespoke vending machine dispensing 'Unicorn Dreams', oversized pink and chrome flamingos, bespoke hashtags and more. We designed and manufactured each element in-house through a close collaboration with the client.
This destination store is a true trailblazer, and is the physical manifestation of the Missguided spirit at every turn.
The first Missguided store exudes a brand personality and deep understanding of its loyal customer. The multi-sensory experiences in-store engage and inspire customers.
the award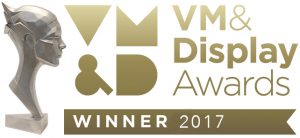 The creative scheme won 2 awards at the VM & Display Awards:
– Best Outstanding Feature/Prop
– Best in-Store Branding