the brief
World renowned Perfumery Miller Harris invited Prop Studios to produce a modern floral window display and in-store installation for their 'In Bloom' campaign, launched as part of Covent Garden in Bloom. Covent Garden in Bloom ties in with the prestigious Chelsea Flower show and celebrates Covent Garden as the oldest square in London with a return to its historic past as a floral haven.
The aim was to highlight and showcase specific floral accents, taking the modern Bohemian spirit of Miller Harris as inspiration. 
design & manufacture
Our design team worked very closely to ensure the campaign was reflected within the window display and interiors. Incorporating cascading faux florals which, gradually taking over the store walls, celling and furniture.
Mirrored geometric shapes hang within the florals and are angled on shelves to create a kaleidoscope effect. Outside the main window is a bespoke made bench covered in florals as the bench frames the neon lettering spelling out 'In Bloom, allowing for an impactful photo opportunity for shoppers and passers-by.
Miller Harris pride themselves on developing the finest fragrances by honouring nature and breathing colour and life into their perfumes. As the months go on, we will be working closely with Miller Harris to alter their window display in conjunction with their new seasonal fragrance launches.
the award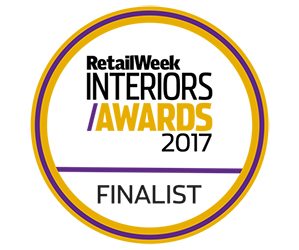 The campaign won for Best POP/VM Solution at the Retail Week Interiors Awards