To stand out this Christmas, start by showcasing your brands unique personality through your window displays. Christmas window displays have the exceptional ability to stop, engage and raise brand awareness, they conjure wonder and demand attention.
Follow our 5-step guide into creating a prominent and effective Christmas experience for consumers.
Step 1: Choose your theme
Having a clear, identifiable and cohesive theme is one of the best ways to capture your customers during the festive period. Where there is so much competition from retail giants and chain stores, an independent brand or start-up can differentiate themselves and stand out from the crowd through their window installations. Consider new products or campaigns also launching ahead of the festive period to ensure consistency across your channels.
Harrods harnessed the power of collaboration in 2017 as they partnered with Italian fashion brand, Dolce & Gabbana for an Italian themed takeover of their windows. The concept continued in-store with a full on Italian market experience.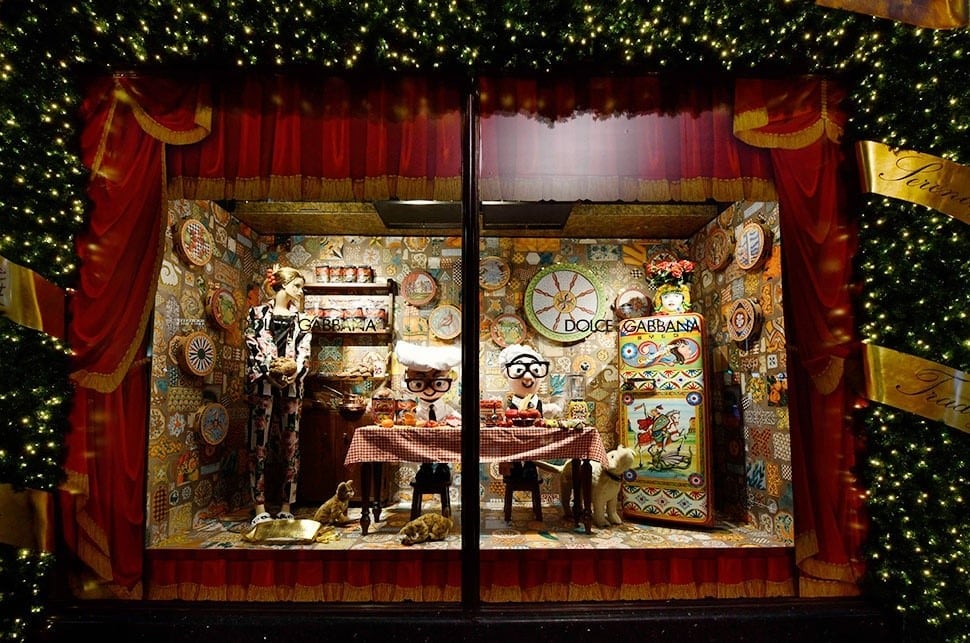 Step 2: What's your story?
What story are you trying to convey within your window display? A successful window scheme always tells a story. Keep it on brand, reflect your values and personality, reassert your brand truths.
Printemp Haussman department store told the tale of a little boy who travels from London to celebrate Christmas in Paris across their 11 windows. The little boy leaves London to celebrate Christmas in Paris dressed in a Burberry trench coat, cashmere scarf, rain boots and walking umbrella. He starts his journey in the twilight of winter and travels through the snowy English countryside, crosses the sea, takes the train and finally arrives in Paris at night. Printemps partnered with a select curation of brands, including Fendi and Burberry to bring the story to life.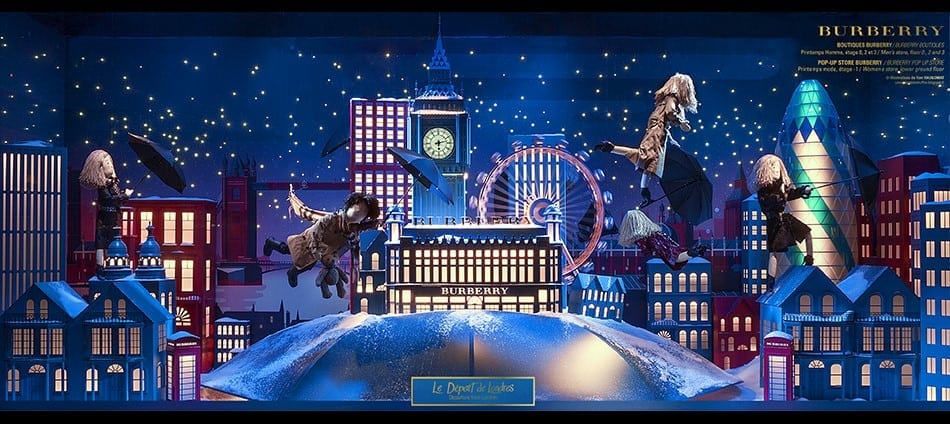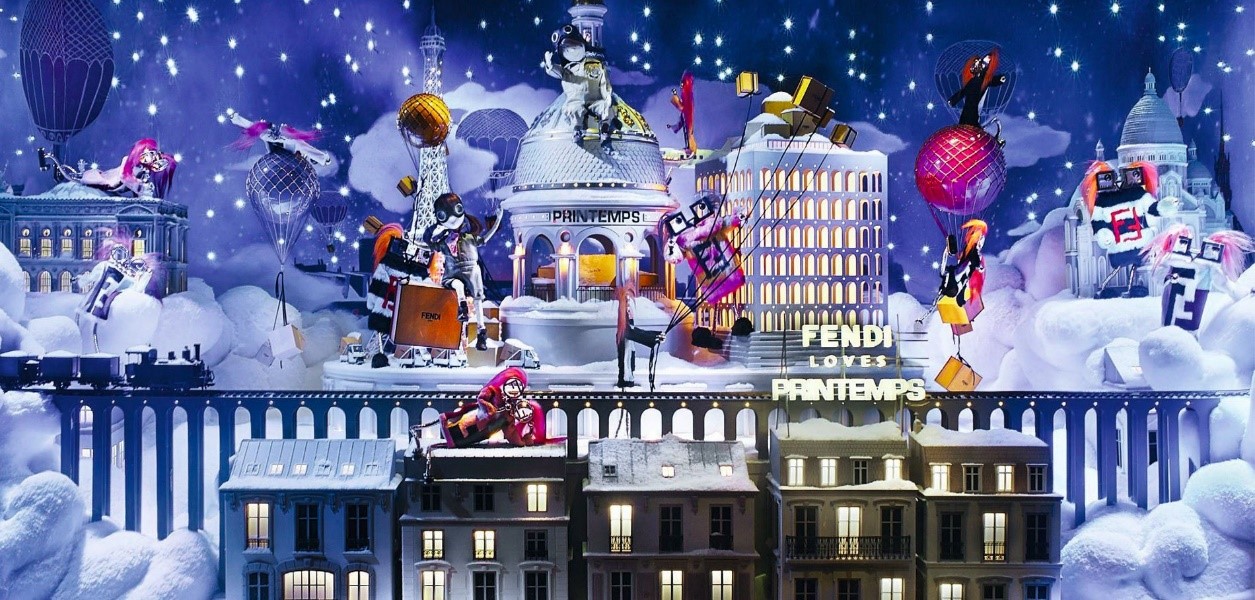 Step 3: Consider the needs of your audience
Quite simply, know your audience. For example, do your customers crave an offline, tactile experience? Perhaps, considering Gen-Z are being more mindful of social media usage and it's mental health implications. Or do your customers want to be ahead of the crowd and get an exclusive shareable moment? Is wellbeing at the top of their agenda? Or transparency? Sustainability? Listen to your customers, pay attention and reward them with the experience they actually desire. Offer a genuine experience and they are more likely to invest in your brand.
Step 4: Key Messaging
Of course, your window intends on driving footfall but not everyone will make the conversion to the store. So what key message do you want to leave passers-by with? When you capture their attention for 3 seconds – what will you be quickly communicating?
Step 5: The Power of Reality
Christmas windows are, traditionally, exciting explosions of festivity and fun. If anything is going to encourage shoppers to pause for minute, look up from their screens and enjoy reality – it's a Christmas window. Utilise this moment to reassert your in-store experience to your customer. Encourage them to come in-store and experience your brand in 3D, to talk to your ambassadors, to feel your story. Now that more retailers are offering same-day delivery or click and collect options, it's crucial for retailers to offer their customers something they can't get online.
The tradition of the Galeries Lafayette Christmas tree dates back over a decade. Each year, you'll find a different show-stopping tree underneath the mesmerizing art-nouveau dome of the large department store. All in keeping with their theme for that year. Their latest Christmas tree from their 2017 'Spectacular, Spectacular' theme was made up entirely of inflatables consisting of candy, balloons and plenty of colour. It rotated and every now and then, a host of inflatables and sparkly forms danced up and down. There was also a VR experience on the 2nd floor, where you could find yourself riding a roller coaster with moving seats, wind fans and immersive sound.
Whilst it's important to create a winning Christmas window, it's also vital to ensure you're bringing together your product and your consumers.
---
Looking for an experienced retail design agency to help inspire your next Christmas store window display? Get in touch today to view our award-winning Christmas portfolio.
---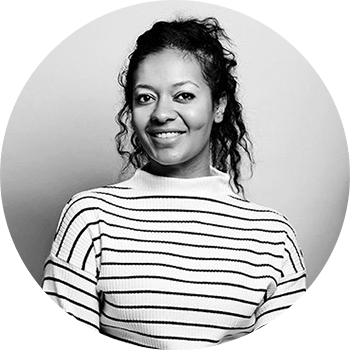 WRITTEN BY
SALMA ABUBAKAR
PROJECT MANAGER